Wattpad - Read & Write Stories
10.34.1
Free Books – Read and Write Stories of All Genres
Is book reading a hobby of yours? Are you looking for a way to read stories on your Android device for free? If yes, then this reading app is exactly what you need. Wattpad is a useful app which lets you read classic books and new stories of various genres from both popular and up and coming authors for free. It has a huge collection of free books available which are classified into various genres. From fiction to romance to fan fiction and action, you will find books of all genres on this app. The intuitive user interface and simple layout and design of Wattpad makes navigating this app an easier proposition for one and all.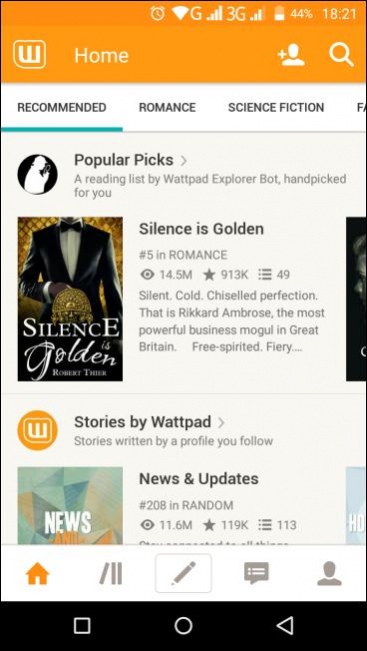 Wattpad starts off by asking you to log in using either your Facebook or Google accounts. You also have the chance to create a new account using your email as well. Once you have managed to log in, you will be asked to enter your gender and date of birth as well as some book titles that you like. This information is required so that the app can recommend stories and books that are according to your taste. This app has five main sections which include Home, Library, Write Story, Updates and Profile. Each section has its own separate screen and is sub-divided into many sub-sections.
The Home section of Wattpad provides you a list of all the books that have been handpicked for you by the app. This section is divided into various sub-sections which include Recommended, Romance, Science Fiction and Fantasy to name a few. In these sub-sections, you will find books and stories belonging to the respective genres. The Library section of this reading app is dedicated to all the books that you are currently reading. Current Reads, Archive and Reading Lists are the three sub-sections that you will find in this section of Wattpad – Free Books. Archive sub-section is for all the free books that you have archived while reading lists contain books that you have added to a list for future reading.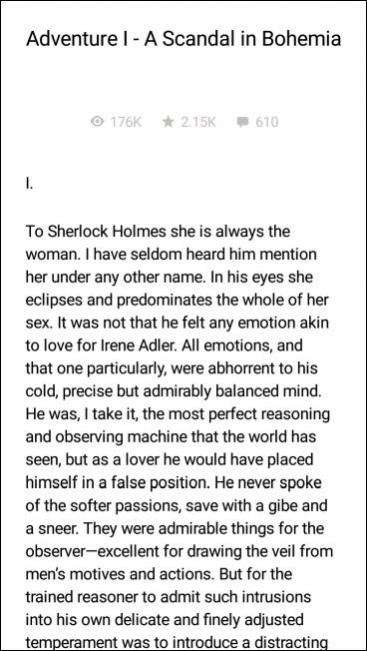 In addition to offering you the chance to read books and stories, Wattpad lets you write your own stories as well. The Write Story section of the app is dedicated for this purpose and allows you the opportunity to compose stories of your own. After you have finished writing your story, you can publish it as well and share it with the Wattpad community. The Updates and Profile sections of the app are for the latest news from Wattpad and your app profile respectively. You will find sub-sections like News Feed, Notifications and Messages in the Updates section while About, Conversations and Activity are the sub-sections that are present in the Profile section.
When reading any book or story on Wattpad, you have the chance to change the background color as well as the font. In addition to this, you can also increase or decrease the font size as well.
Features:
Intuitive user interface
Simple design and layout
Free books of various genres
Classic books from famous authors
Option for commenting on books
Connect with the writers of the stories as well as other readers
Create reading lists by adding books that you like
Populate your library with your favorite books
Write and publish your own story
Conclusion:
Wattpad is an app that is most likely to appeal to people who love reading books in their spare time. It offers them the chance to read classic books as well as stories on their Smartphones without having to pay a cent. It is certainly a nice app to have on your phone as it can keep you entertained for hours and hours.
RELATED PROGRAMS
Our Recommendations
---
---
---
---